Waterjet Services (Water Jet Services)
Waterjet cutting (or water jet cutting) is a key service of Labb Machine's waterjet precision machining line of work.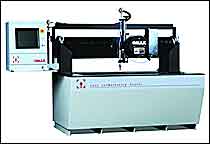 Water jet precision machining using highly pressurized water, forced through a small orifice at twice the speed of sound, directed at the work piece to cut. A variation of waterjet cutting is abrasive water jet cutting (or abrasivejet cutting,) which adds abrasive particles to the pressurized water to cut harder or thicker materials.

Water jet cutting or abrasive jet cutting can be used on virtually any material - rubber, metal, glass, plastic, ceramic, composite, etc.

Water Jet Cutting / Water Jet Precision Machining
Abrasive Jet Cutting / Abrasive Jet Precision Machining
Waterjet cutting, waterjet precision machining, abrasivejet cutting, and abrasivejet precision machining services can be done using our OMAX JetMachining® Center. Just supply a .DXF file or CAD drawing and Labb Machine will meet your deadline for machining short runs and prototype parts up to 2 inches thick, with tolerances as close as ±0.003 inches. Due to the quality of the Waterjet cutting and waterjet precision machining process, your finished parts will be free of burrs, stresses, and heat-affected zones.

Fast and Flexible WaterJet Machining

Prototypes and limited runs on short notice
Production directly from .DXF files or CAD drawings
Metal, glass, plastics, ceramics, and composites - all can be done easily!
Non-conductive and reflective materials are no problem!
Accurate and Reliable Water Jet Machining
Precision parts with tolerances as close as ±0.003"
No burrs, stresses, and heat-affected zones
Minimal to no de-lamination of composites
Quick turnaround to meet your JIT deadlines